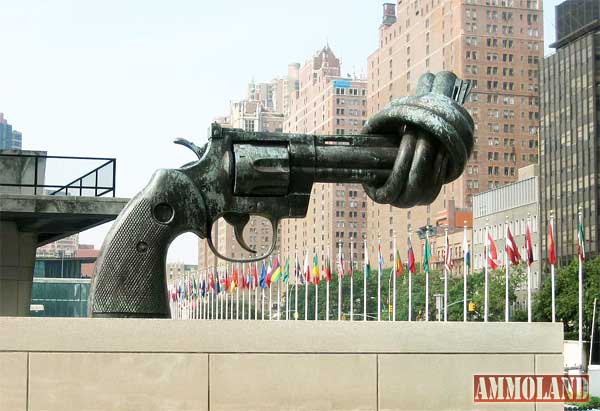 UNITED NATIONS PLAZA, NEW YORK CITY. via JPFO, BELLEVUE, WA –-(Ammoland.com)- In the midst of the national frenzy for removing offensive symbols, many with controversial but historical significance, a Jewish civil-rights group is calling for destruction of the United Nations anti Second-Amendment-rights statue set in the heart of New York City.
President Trump just visited the U.N. to emphasize the importance of sovereignty and our national rights.
A Bill of Rights and civil rights affront:
In its official statement, Jews for the Preservation of Firearms Ownership, http://www.jpfo.org said:
"This statue is a grotesque assault on the most fundamental tenet of the U.S. Bill of Rights, plus the basic civil and human right of Americans and all people to protect themselves from harm—and the kind of evil lurking in U.N. headquarters itself. The statute must be seen for what it is, and expunged. It is not art, it's a finger in freedom's eye."
"JPFO supports non-violence but that's not what this is. The pretzel gun denigrates every legitimate role firearms play in preserving peace, freedom, prosperity, deterring enemies, stopping crime and the jihad, providing food even at subsistence levels for the poor. In short, it is a statist abomination," according to Alan Korwin, an author and consultant to JPFO.
"It conveys little notion or implication of disarming the horrific denizens of the U.N. and tyrants who rule much of Earth's population," he says.
"Such a misguided affront to our heritage, history and constitutional guarantees springs from ignorance. It has no place on our soil." JPFO suggests moving it to a Human Rights Council nation like Iraq, Myanmar or Saudi Arabia, or perhaps communist China or Africa is appropriate, anywhere but the land of the free and the home of the brave, where real guns keep the violent at bay.
Rather than moving the six-inch bronze, typically imaged to look huge, melt it down for ammunition, as penance for the long-standing humiliating constitutional insult. Peace symbols are like flowers, feathers, doves, sunshine, hearts and water, not guns, JPFO says.
About Jews For The Preservation Of Firearms Ownership:
Jews For The Preservation Of Firearms Ownership Mission is to destroy "gun control" and to encourage Americans to understand and defend all of the Bill of Rights for everyone. Those are the twin goals of Wisconsin-based Jews for the Preservation of Firearms Ownership (JPFO). Founded by Jews and initially aimed at educating the Jewish community about the historical evils that Jews have suffered when they have been disarmed, JPFO has always welcomed persons of all religious beliefs who share a common goal of opposing and reversing victim disarmament policies while advancing liberty for all.
JPFO is a non-profit tax-exempt educational civil rights organization, not a lobby. JPFO's products and programs reach out to as many segments of the American people as possible, using bold tactics without compromise on fundamental principles. Visit their website.